1995 Chevrolet Silverado: FOR SALE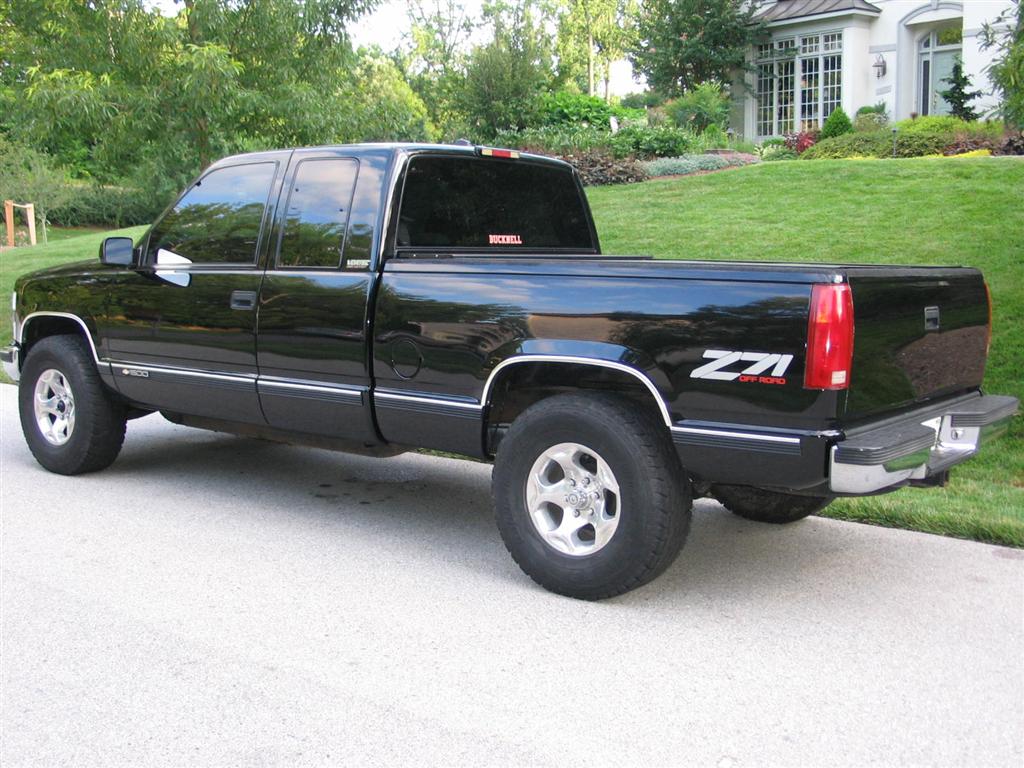 UPDATE: This vehicle sold in 2007. It is no longer for sale.
My 1995 Silverado with the 6.0L engine and 4L80e transmission is now for sale. Here are some details on the truck:
I bought the truck from a man in North Carolina. It had new paint and was in good overall shape with a 350 TBI engine and 4L60e transmission. I took out the entire powertrain and put in a freshly rebuilt LQ9 engine (6.0L gen III V8 from Escalade, Silverado SS) and 4L80e transmission with Level 10 rebuild kit. Also freshened the transfer case, and rebuilt the rear end with a Detroit TrueTrac limited slip differential. All of the electrical work was done in a professional manner with soldered and weather sealed connections. I am an electrical engineer and took no shortcuts with the wiring and programming. Almost everything in the powertrain on this truck has been replaced with new parts (most genuine GM) since I have owned it. Fuel pump, front suspension, steering parts, etc. etc. This is a very reliable and well built truck. Here are the specs:

1995 Silverado 4WD extended cab short bed, 37,000 miles on the powertrain, 220k miles on body
2002 6.0 LQ9 engine
Comp 212/218 .558/.563 115 LSA cam, hardened pushrods, ARP rod and main bolts/studs
2002 4L80e transmission with 2200 RPM stall HD truck converter, Level 10 performance rebuild
Flex-a-lite 250 electric fans with two speed PCM control
Silverado SS stainless exhaust, dual 3" to muffler, single 3.5" tailpipe, no drone at highway speeds
Dual Magnaflow 3" high-flow cats
3.73 gears, Detroit TrueTrac limited slip rear differential
Optima yellow top deep cycle battery installed in aluminum box in bed
Bridgestone Dueler AT Revo tires, 285/75/16
AR Slider polished aluminum wheels, 16x8"
Rancho RS9000 adjustable shocks
Roll-bak tonneau cover
Alpine CDA-9855 head unit with XM receiver
Kenwood KSC-SW1 powered sub
Alpine Type-X component speakers
Viper alarm/remote start system
Built in Whistler radar/laser detector
Escalade cluster with correct vehicle mileage
ScanGauge installed in overhead console

All factory functions work (Gauges, A/C, cruise, etc.) My actual fuel mileage is 13 city 17 hwy. I've been running regular unleaded lately but to avoid power loss from running on the low octane spark map it should use premium. It's had Mobil 1 in it since break-in and all regular maintenance has been done on schedule. It's been to the track once for a few passes (15.2, 98 MPH) but other than that I treat it very well. There are some minor things that could use attention: the belt tensioner vibrates when the A/C is on at about 800 RPM (normal hot idle is 650), which is annoying at idle with A/C on. The carpet edge is visible up by the transmission hump at the front of the cab, I think the previous owner put new carpet in that didn't fit so well. The billet grille needs to be replaced or cleaned up, and the bed cover has paint flaking in one spot. And the bed liner on top of the rails could use a freshening up- it has gotten thin being exposed to the sun.

I just put a new power steering pump in the truck to fix a fluid leak. You'll notice the fluid stains in some of the pictures. Now there are no leaks whatsoever.
I will most likely include an EFILive FlashScan cable with this sale. This means you can use your computer to adjust transmission shiftpoints, shift feel, calibrate speedometer for tire size changes, etc. You will be able to control almost every aspect of the electronic engine and transmission management system. Also included are catch-all floor mats for winter and regular floor mats for summer (pictured).
The truck passed Maryland emissions testing a few weeks ago with flying colors. The treadmill test showed that the engine is well within (less than 5% of limit) Maryland specs for CO, NOx, and HC emissions.
All manuals, documentation of work done to vehicle, and receipts for major components added to the truck are included with the sale. Accessories such as the stereo remote and faceplate cover are included.